Looking for professional translation services?
Are you going to introduce your product or services in Poland? Do you need someone to translate your content, pitch, website or any other company materials into Polish? Are you looking for a translator specializing in software localization/life sciences/technology? If yes, I am the person you were looking for. Contact me, so that I can deliver you a solution tailored to your specific linguistic needs.

Looking for translation vendors?
Are you looking for an experienced translator delivering timely services, complying with client's requirements and terminology and having in-depth knowledge of her fields of specialty? A Polish native-speaker? Do you need a translator who is open to new technologies including MTPE and knows how to use various CAT tools? Well, it seems that your journey has come to an end :). Check out My experience website and contact me with further details on your recruitment process.
Contact me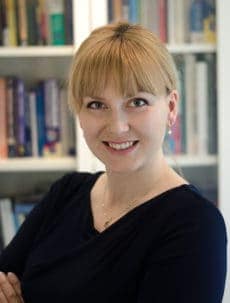 About me
My name is Gabriela Janiszewska and since 2012 I have been running my own translation business. I translate from English and German into Polish and from Polish and German into English. My main fields of speciality are life sciences, software and games localization, technology and marketing. As a graduate of the Faculty of Applied Linguistics at the University of Warsaw, I possess very high language and translation skills that I put to good use in order to provide my customers with quality translations
in a timely manner.
Making the translations work for the benefit of my customers and sell their products/services is my ultimate goal.
Privately, I am a wife and a mother of two living in the suburbs of Warsaw. I enjoy reading fantasy books and crime stories. In my free time, I pursue my love for Star Wars and genealogy.
I specialize in:
Medical translations
Oferuję profesjonalne tłumaczenia medyczne z języka angielskiego i z języka niemieckiego. Mam doświadczenie w tłumaczeniu dokumentacji urządzeń i wyrobów medycznych, a także tłumaczeniu tekstów dotyczących badań klinicznych i produktów leczniczych (szablony EMA).
Marketing translations
Wykonuję tłumaczenia stron internetowych, sklepów, blogów, tłumaczenia scenariuszy reklam, tłumaczenia wewnętrznych dokumentów firmowych dotyczących szkoleń itp. Oferuję również usługę transkreacji czyli kreatywnego tłumaczenia, w ramach którego dostosuję treści firmowe do wymogów kulturowych kraju docelowego.
Software and game localization
Uczestniczę w wielu projektach dotyczących lokalizacji oprogramowania medycznego, laboratoryjnego, gier komputerowych i na telefony komórkowe.
Technical translation
Tłumaczenia instrukcji obsługi urządzeń, linii produkcyjnych, tłumaczenia z branży automatyki oraz tłumaczenia z branży telekomunikacyjnej.
Find out more about my experience
Why your company will benefit from my translation services?
Naturally sounding content that will attract customers and sell better.
Increased credibility as a result of flawless marketing content.
What you send is what you get. No damaged formatting/tags, etc.
Ordering process is swift and you can use secure payment services such as Payoneer and Paypal.
Consistent terminology throughout the text.
Localization of the source text taking into account target culture.
References
Szybko i sprawnie.
Michał Dębski Opinia z Google
Very good translator. Easy communiacation, reliable, good quality.
KMC Global Solutions Biuro tłumaczeń
Service was quick and price reasonable.
Andrzej Maskalan Radionet
Gabriela Janiszewska wykonuje swoje zlecenia z absolutnym zaanagażowaniem, posiada szeroką wiedzę ekspercką dodatkowo jest bardzo efektywna. Umie wprowadzać ciekawe, proste i logiczne rozwiązania. Wysoce cenię sobie jej usługi i bardzo gorąco polecam.
Katarzyna Zakrzewska Communications Planner at Viseum
Facebook
Twitter
Linkedin
Contact me: